Every promo code has its own terms and conditions (i.e. with minimum spend, redemption period, for specific shops etc).
If your promo code doesn't work, it could be because the promo code has expired or products in your shopping cart are not eligible for the discount.
If your promo code works well, the voucher value will be automatically deducted from the total and you can then proceed to "Check Out". You can also find out more information about your promo code by clicking onto the question mark in the circle.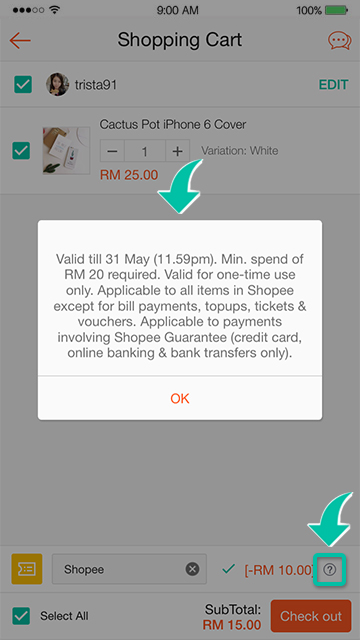 However, if your promo code is not working, these could be some of the reasons why it is not working.
Promo code is invalid.
You do not meet requirements to use this promo code - sometimes the promo code is set for users who have registered from a certain period of time, for new users, and etc.
The promo code has expired.
The promo code has been fully redeemed. 
You have redeemed this promo code before.
The promo code cannot be applied to your products in checkout. Please check the details and try again - this means, the products that you have chosen might not be a part of the promo code.
The promo code cannot be applied as it does not meet the required min. spend. Please check details and try again.
The promo code has not started. Please try later.
If the promo code is still valid but not reflected, please email us at support@shopee.com.my for further assistance.