You will earn Shopee Coins whenever you purchase items from any seller on Shopee. This excludes purchases from the Tickets & Vouchers category, or instances where buyers and sellers self-arrange for a transaction. You will only receive Coins after an order has been completed (after you click Order Received).
The amount of Coins you earn from a particular order will be calculated based on the order's final purchase price, minus all discounts and excluding Shipping Fees. For every RM1 spent, you will earn 1 Shopee Coin. You can earn up to 100 Coins per order. However, you can only earn up to a limit of 150 Coins daily (within 24 hours) or 300 weekly. 
You can check the potential amount of Shopee Coins you can earn from a product order via the product page: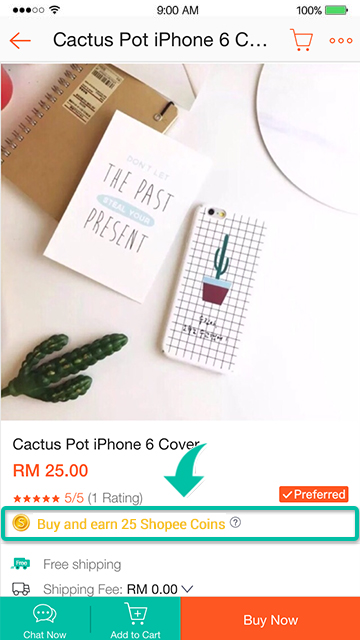 You can also earn Shopee Coins by clicking on the 'Daily Check In' button
 in the Coins Rewards page. Stand a chance to earn more Coins if you check in on consecutive days.